Odor Control for Industrial Operations
BioWorld Odor Neutralizer (BON) is a plant-based product that eliminates offensive odors on contact. While many products only mask odors with strong scents, BioWorld Odor Neutralizer neutralizes unpleasant odors making them undetectable to our sense of smell.
Featured Odor Control Projects
View More Odor Control Projects
Results from our Clients
A 2-month power failure in an RV refrigerator/freezer caused decomposition odors. A restoration company told our clients they would never get the smell out. A BioWorld Fogger and Odor Neutralizer eliminated the smell.
A single story 2,800 square foot house with heavy smoking odors was purchased by a family. One of the members was very sensitive to nicotine/tar odors and could not live in the house. A fogger and odor neutralizer got rid of the smoke odor problem and the odor is still undetectable after 1½ years.
A municipality grinds leaves at an 8 acre facility and delivers mulch to residents. Nearby property owners complained about odors at the site. Optimizer Plus was spray applied onto the compost to knock out the odors. No more complaints were received.
A Canadian natural gas storage and supply company injected a mercaptan/sulfide odorant into the gas. An enzymatic liquid was used in an attempt to control mercaptan odors. When BON was used on the smell, it worked much better than the enzyme liquid.
A floating casino had wastewater and odor issues making the on board experience for guests unpleasant. Optimizer Plus was added to the wastewater and a fogger with BON was used to eliminate airborne odors.
A loading dock with trash compactors at the Time Warner Center generated obnoxious odors. Drum mounted foggers with timers were set up to apply BON into the air intermittently 24 hours a day 7 days a week. Odors problems were resolved using a simple application system.
Excavation of contaminated soil at a US naval station required odor control due to an adjacent residential area. BON was applied to the sidewalls and groundwater surfaces in the excavation pits. No odor complaints were received during the project.
Developed for Commercial and Industrial  Applications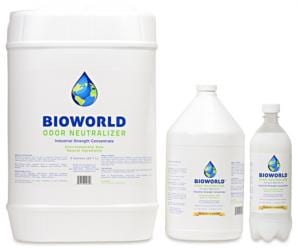 Two Ways to Eliminate Any Odor
Odor Neutralizer
BON Commercial Concentrate can be added to paint, chemicals and wastewater or diluted and used in foggers or industrial misting systems. BioWorld has a variety of handheld foggers, drum mounted foggers and an industrial fogging system available to treat odors in the air.
Optimizer Plus
Optimizer Plus is a bioenhancement formulation combined with the odor eliminating power of BON Commercial Concentrate in a single, easy to use product. Optimizer Plus can be sprayed onto organic waste or added to wastewater to accelerate organic waste degradation and eliminate odors at the same time.
The Benefits of BioWorld
Value Added Service
BioWorld staff provides a customized evaluation and designs a specific treatment plan for your situation. We also monitor the progress of your odor control project and guide you through the treatment process. This gives you what you deserve – outstanding customer service.
Eco Friendly and Natural
BioWorld Odor Neutralizer and Optimizer Plus products have been safely used in numerous waste and odor situations for over 20 years. BioWorld formulations are eco friendly and natural.
Not a Masking Fragrance
BON is not a masking fragrance that covers up one smell with a stronger smell. It neutralizes unpleasant odors making them undetectable to our sense of smell – whether urine, skunk, fish, asphalt, chemical, paint and virtually any other odor.
Water Based, Concentrated Formulations
Our biotechnology formulations are water based and packaged in concentrated form. This gives you many application options depending on the nature and extent of odors – use in diluted form or at full strength.
Versatile and Easy to Apply
Our odor control products are versatile and easy to apply. Dilute with water and spray apply directly onto waste or use a fogger to apply odor neutralizer into the air where odors are generated. Meter Optimizer Plus directly into wastewater.
Easy and Effective Application with Fogging Technology



Scientific Approach Providing Eco Friendly Solutions
Optimizer Plus and Odor Neutralizer are environmentally safe, non-hazardous, non-toxic, non-corrosive, non-flammable, and non-pathogenic.
Technical Documents
EXPERT RESPONSE WITH 24 HRS